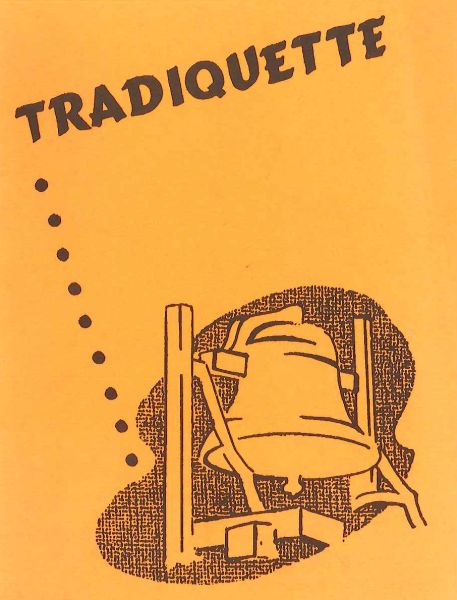 1950 was a very good year for courtesy at Wheaton College. Concerned about campus decorum in daily routines, the Intersociety Council compiled a handy booklet for instructing the average clueless Wheaton student on the correct social behavior involved in such matters as successful interaction with the opposite sex, polite chitchat, appealing dress and proper dinnertime comportment. This instructional is titled "Tradiquette," smashing together the words "tradition" and "etiquette." The editors state:
No one wants to feel odd, awkward or ill-at-ease. To be known as a person of poise is very much to be desired. In order that this be true of one, he must know the answers — what the inhabitants of his particular little world considers important — "how to do what, when." So in your hand you have, for that very purpose, a little guide book compiled by Wheatonites for Wheatonites.
The advice is sensible. For instance, "…be free with the toothbrush. After all, water doesn't bite, and being friendly with it can take a lot of the sting out of life." The entry called "Don't be an iceberg" encourages smiling and friendly conversation with students, staff and campus visitors. The entry called "Don't be a clinging vine" warns the young lady about excessive arm-in-arm strolling with her guy because "…maybe he doesn't want the extra load." She must be reasonable. "But very seldom," it adds, "does a girl grab a wing without a reason."
The entry called "Class in class" cautions students against disrespectful behavior like 1) coming in late 2) writings letters 3) looking out the window 4) chewing gum 5) combing hair 6) whispering 7) filing fingernails 8) sleeping. "If you're guilty of this — to the doghouse, please."
What would the editors think of cell phones and instant texting?