Many a youth minister and pastor has used the tried and true jokes of offering up to their congregations the funny, non-existent, names of books of the Bible. Second Hesitations or First Opinions has produced a good laugh or two as has the Book of Hezekiah. For good or ill, the use of these fictitious titles can also be used to differentiate the true believer from the casual one. The joke can at times backfire. Sometimes the joke isn't a joke at all but reveals the fluidity of the Christian Bible.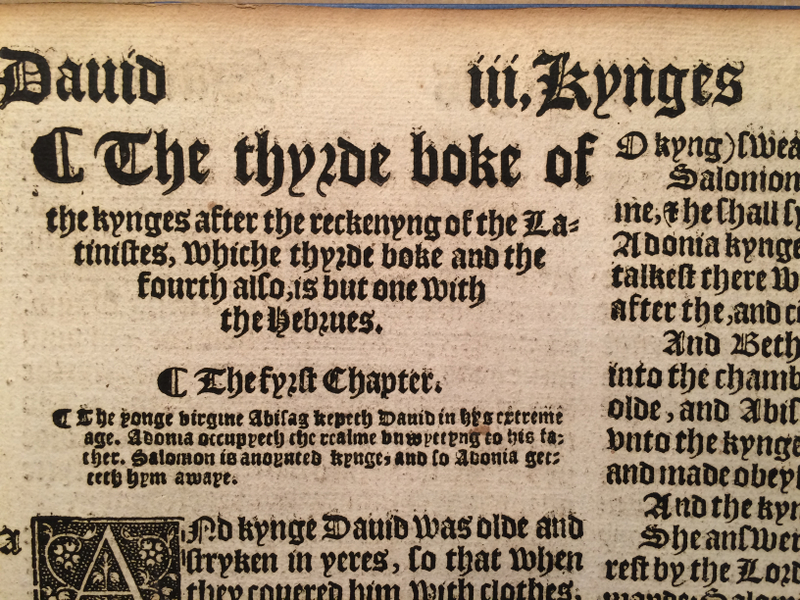 Take, for instance, the recent acquisition of the Book of Third and Fourth Kings in Buswell Library's Special Collections. Your average Christian may pass over this title but someone a bit more familiar with the full canon of scripture may do a double-take. Third Kings? The songs of Sunday School go from Genesis through the Pentateuch into the historical books from Joshua to First and Second Samuel then on to First and Second Kings. There is no Third Kings in the childhood song, only Kings followed by Chronicles. This is where history helps us out.
Yet, the Book of Third Kings, or The Third Book of Kings, was how these books were known by the early church. The Israelite believers would have known this book as First Book of Malachim, or as the Vulgate presented it in Latin, "Liber Regum tertius; secundum Hebraeos, Liber Malachim." It was in the Reformation period that the names of the books were modified. It was not the Catholics or Protestants that encouraged this change, but it was Daniel Bomberg (died 1549), an early printer of Hebrew language book, who introduced this change in his principal edition of the Mikraot Gedolot (rabbinic bible) in 1516-1517.
It took many years for this change to filter into the printings of other Bibles. This edition of Third Kings was a part of an edition of the Great Bible printed in 1566. The original printing of the Authorized, or King James, Bible of 1611 also contained the Book of Third Kings.