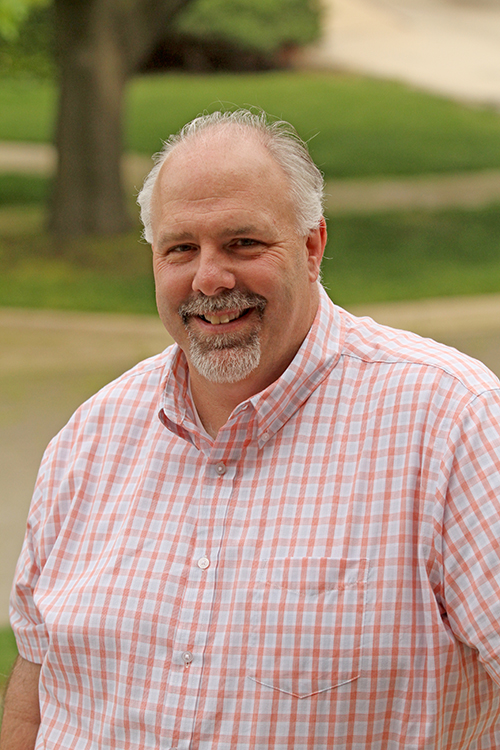 At this time of Thanksgiving, we at Special Collections, Buswell Library, are deeply grateful for the service of David Malone, longtime head of Special Collections. In July of this year, David left Wheaton College to become Dean of the Library at Calvin College and Seminary in Grand Rapids, Michigan. While we are excited for him for this new venture, he is missed at Wheaton, and we wanted to take the opportunity to celebrate him and his service.
David was hired in 1991 as Assistant to the Head of Special Services at Buswell Library before becoming Head of Systems four years later. Later in the 1990's, David became head of Archives and Special Collections, a role that combined his love for history, archives, and technology, with his talent for building relationships within the college community and visiting researchers. In 2004, he became an Assistant Professor of Library Science before being promoted to Associate Professor in 2012.
Some of David's many accomplishments include:
Strengthening existing collections by collecting new materials, working with donors, collecting oral history interviews, and managing endowments;
Acquiring new collections such as the papers of Oswald Chambers and Senator Dan Coats, and the records of the National Association of Evangelicals (NAE);
Creating online and physical exhibits on subjects like the 1950 Wheaton Revival, the abolitionist history of Wheaton College, and the work of Margaret and Kenneth Landon;
Overseeing the digitization of materials including the collection of Allen Lewis' prints and engravings, the Bulletin of Wheaton College, and Martin Luther's 1517 commentary on the Psalms, Operationes in Psalmos;
Hosting and contributing to events such as the Shakespeare Institute, Treasures of Wheaton, the Muggeridge Centenary Conference, and the Wheaton College Sesquicentennial;
Implementing such digital initiatives as creating this blog, and various library tools including the archival information system Archon;
Collaborating with faculty to bring historical artifacts into the classroom, including closely working with Professor Emeritus of Anthropology, Dean Arnold, on his "Craft of Anthropology" course.
David is an exceptional librarian, team leader, and colleague, and Buswell Library has greatly appreciated his leadership and vision. We conclude our thanksgiving of his service with the reflections of two of his longtime colleagues, David Osielski and Keith Call.
"The majority of my professional career has been spent under the leadership of David Malone at the Special Collections of Buswell Library.  As well, both he and my colleague, Keith Call, were witness to many significant milestones in my personal life; welcoming the arrival of my four children, receiving my master's degree, moving into our first home.  David is a visionary leader who sought to lead by example and empower his staff to greater heights of excellence.  He is a master storyteller and passed on his warm gift of hospitality and service to those under his supervision.  Wheaton College's long 150+ year history is a legacy to be remembered, cared for and retold to the next generation.  David gave his staff permission to tell all of Wheaton's stories well, tempered with grace and humility.  Over the years he gave us increasing levels of responsibility and empowered us to grow in trust and confidence in our abilities, even when making mistakes.  Thanks to David, we see ourselves as guardians of a unique story in God's Kingdom called 'Wheaton College' and stewards of hundreds of unique special collections that help shape and guide the liberal arts curriculum for future students." –David Osielski, Special Collections Coordinator
"Special Collections, including the College Archives, is the heart and institutional memory of the Wheaton College campus. Thanks to the leadership of David Malone, Special Collections not only expanded, but transformed into a friendly place where donors, students, and other visitors comfortably interact with historically significant manuscripts and artifacts. The material maintained in our storage facility is just that – material. However, as David often observed, these objects provide a catalyst for storytelling, whether it is Oswald Chambers' personal Bible with his handwritten notes, or Charles Haddon Spurgeon's bow tie. They reveal a bigger picture, a wider vista on the landscape of Christianity in which the library user becomes a participant. We salute David Malone for his years of service and vision. Like our holdings, the memory of his tenure is safely stored, carefully tended and ripe with meaning." –Keith Call, Special Collections Assistant
We would also like to thank Brittany Adams, former Metadata Associate at Buswell Library, for compiling much of the above material.