In an age of superstar athletes, Harold "Red" Grange (1903-1991) stands among the greatest, embodying the spirit of honest sportsmanship and American achievement. Chris Willis' Red Grange: The Life and Legacy of the NFL's First Superstar (2019) chronicles the rise of the humble football player from his first job delivering ice blocks in Wheaton, Illinois, to performing immortal exploits on the gridiron, to his brief acting career in Hollywood, and finally his role as the esteemed elder statesman for the National Football League.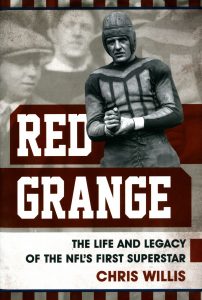 Consulting an array of resources, including the Red Grange Papers (SC-20) at Special Collections, Buswell Library, Wheaton College, Willis offers a fresh perspective on the beloved coach, broadcaster, pitchman, Hall of Famer and ambassador.
Chris Willis is head of the research library for NFL Films. His books included The Man Who Built the National Football League: Joe F. Carr (2010); Dutch Clark: The Life of an NFL Legend and the Birth of the Detroit Lions (2012); and The Inside Story of the 1984 San Francisco 49ers (2014). He was nominated for an Emmy in 2002 for his work on the HBO documentary The Game of Their Lives: Pro Football's Wonder Years and won an Emmy in 2016 for his work on HBO's Hard Knocks: Training Camp with the Houston Texans.