Buswell Library is certainly familiar to staff and students of Wheaton College, but it is relatively unknown that the structure to which it is attached was originally called the Nicholas Building, until expanded in the late 1970s. A portrait and a plaque, until removal in 2006, commemorated the contributions of a man named Robert E. Nicholas.
He was born oldest of eight children on a farm in 1882 in Caledonia, Ontario, Canada. "The village declared no holiday," he writes, "the whistles did not blow, nor did the church bells ring when it became known that I had made my appearance in a world which already had problems enough."
Raised among believing Methodist parents, Nicholas early learned the value of hard work as he milked cows, drove horses and plowed soil. After graduating from business college, he visited with an uncle who had attended the 1893 Chicago World Fair. Uncle William confidently stated, "There are a hundred ways of making a living in Chicago." So Nicholas decided to discover one for himself. Meeting cousins living in the Windy City, Nicholas toured the Art Institute, the Stockyards and the Public Library, accompanied by a warning to avoid the red light district. Eventually he and his friend, George Rogers, using borrowed capital, started a hardware business in Oak Park, Illinois, a small town promising big returns. During this period Nicholas roomed in the home of A.T. Hemingway, General Secretary of the Chicago YMCA and grandfather of Ernest, the novelist. (The attending physician at the birth of Nicholas' first child was Dr. Clarence Hemingway, Ernest's father). Nicholas' store specialized in builders' hardware for commercial development, and soon he and Rogers enjoyed a sterling reputation among Chicago's architects and contractors. Nicholas was also instrumental in attracting Loop department stores to establish satellites in Oak Park.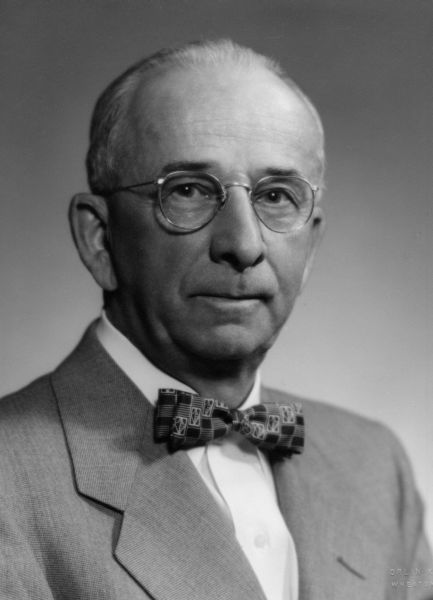 In addition to local commerce, he influenced community life as a member of the Christian Businessmen's Committee for Chicago, successfully barring Sunday movies from Oak Park. In 1928 he was invited by Dr. James M. Gray, President of Moody Bible Institute, to join the Board of Trustees of MBI. He was elected, and soon became a member of the Executive and Investment committees. One year later he sold his business to pursue other enterprises, while also joining the Wheaton College Board of Reference. In 1932 he was elected to the Board of Trustees, replacing Fleming H. Revell, D.L. Moody's brother-in-law, serving as vice-chairmen of the board under Herman A. Fischer. Combining wealth with consecration, Nicholas generously donated funds, usually anonymously, to churches, philanthropic activities and mission agencies. He remarks in his 1962 memoir, Life Has Been Good:
Indeed, I consider among the most rewarding experiences of my life, my association with the presidents, trustees and staff of Wheaton College and Moody Bible Institute. The fine men who comprise the trustee boards and give so freely of their time and means are an inspiration and a blessing. Their leadership, devotion and counsel given in a Christian spirit with independence of viewpoint, but without contention, could well be an example for other Christian organizations. The president of Moody Bible Institute, Dr. William Culbertson, and the president of Wheaton College, Dr. V.R. Edman, are two of the finest men it has been my privilege to know, and my own life has been enriched by working with them. No one could serve actively on the Trustee Boards of Moody Bible Institute and Wheaton College without realizing that the students for whom these institutions are maintained are among the finest in the land.
Nicholas entered unexpected and invigorating spiritual heights when on a Sunday evening his train stalled in Minneapolis. Seeking a church, he wandered downtown until he passed First Baptist, pastored by Dr. W.B. Riley. Stepping in, Nicholas heard the powerful preacher expound on the Second Coming, about which Nicholas knew little. But it was just what he needed. "I realized how hungry I was to hear about the return of the Lord Jesus, now that I had dedicated my life fully to him."
Dr. Edman devotes to Nicholas a chapter called "The Satisfying Life" in They Found the Secret: Twenty Transformed Lives that Reveal a Touch of Eternity, an examination into the spiritual crisis experienced by prominent Christian men and women. He quotes Nicholas:
By this experience, and by others which have followed, my life has been changed from that of a nominal Christian to one with purpose and convictions. There has been an abiding sense of the Holy Spirit's presence in my life. He has given me an appetite for the things of God and an appreciation of the Scriptures. In answer to prayer he has given me ability in business, strength under strain, confidence and courage can understand why so many Christians do not have the joy they might have, or do not have overflowing praise in their heart…There must be a full surrender of life to the Savior to have the fullness of the Holy Spirit…
Recognizing his dedicated service, Wheaton College conferred on Robert E. Nicholas an honorary doctorate in 1963, and in 1967 re-named its library, of which he had originally paid all construction costs, after him. He and his wife, Mabel, raised three sons and one daughter. Still appreciative of his good life, he died at 94 in 1977.