It is very important when one has a real aim. Sometimes this aim is more important than life. –Irina Ratushinskaya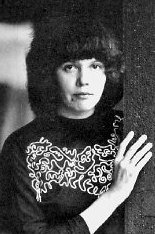 In April 1987, Russian poet and human rights advocate Irina Ratushinskaya spoke at Wheaton College while she and her husband, Igor Gerashchenko, were guests of Northwestern University in nearby Evanston, Illinois. Irina was sentenced to seven years in a labor camp in 1983 followed by five years of internal exile. The main pieces of evidence presented at her trial were six poems rich in Christian imagery. According to her husband the poems were as remote from politics as the Lord's Prayer, yet Irina was charged with subverting and weakening the Soviet regime. At the time Irina stated "our people take literature very seriously. It is our Russian tradition. No wonder when our government take literature very seriously, too. It moves people.".
During her imprisonment, Irina endured beatings, forced feedings, and long periods of solitary confinement. She continued to write poetry, despite being instructed otherwise, and scratched lines on a bar of soap and committed them to memory before washing them away. The women in the labor camp helped her to pass completed poems to Igor, who in turn smuggled them via underground couriers to the West for publication. Irina and her fellow prisoners, most of whom were also believers, appealed to the West for help in a similar fashion. Irina attests that Western pressure was the cause of her release: "The KGB knew that if they killed us, there would be too much noise in the West. So they decided to release us." She was freed, along with 108 other political prisoners, two days before the U.S. | U.S.S.R. Summit in Reykjavik, Iceland between President Ronald Reagan and Soviet President Mikhail Gorbachev in October 1986.
During her appearance at Wheaton, sponsored by the Slavic Gospel Association and the (former) Institute for the Study of Christianity & Marxism, and World Christian Fellowship at Wheaton College, Irina read three poems she had written while imprisoned. She also fielded questions about the Soviet Union, especially Soviet Christians. When asked about glasnost, the new Soviet policy of openness, Irina simply stated that there was no openness in the prison camps; Russian people generally do not believe the changes exist "because those changes are more in newspapers and TV sets than in the lives of Soviet people."
Nearly twenty-five years later Irina's life has taken her full-circle back to the land which once held her captive. In December 1998 she and her husband moved with their twin boys from London back to Russia in the former Soviet Union. She chose to educate her two sons in Russian school after years of procedures to restore her Russian citizenship and currently lives in Moscow.
(mp3 – 00:43:24)………………………..[Excerpted by Wheaton Alumni magazine, August 1987]
.