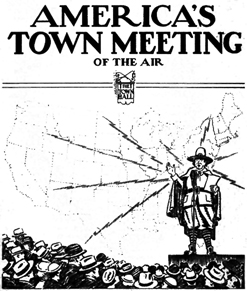 Attempting to hearken back to the town meetings of yore, America's Town Meeting of the Air was a public affairs radio broadcast and one of radio's first talk shows. Beginning as an experiment by the National Broadcasting Company, the program had a discussion format that tried to interest the public in current events and ran from 1935 to 1956. Providing a venue for opposing viewpoints, the program's goal was to create a new kind of educational program that was entertaining and intellectually stimulating. It's well-known guests were experts on the topic of the broadcast and the audience was encouraged to participate, especially to submit brief question without rudeness or insults, though sarcasm easily seeped in. The success of the program was the audience participation and their challenging questions, though some audience members became belligerent or expressed patently racist views. The program became so popular that a monthly column was written for Current History magazine and a synopsis of the weekly program's content was disseminated to public school civics teachers. Among the topics of discussions were "Which way America: Fascism, Communism, Socialism or Democracy," "Does America have freedom of the press," "Is censorship sometimes necessary," "Should The U.S. enter World War II?" Due to changes at NBC and the times the program was aired the show went through a long period of steady decline. The moderator, George V. Denny Jr., was replaced in 1952 and the show ended in mid-1956.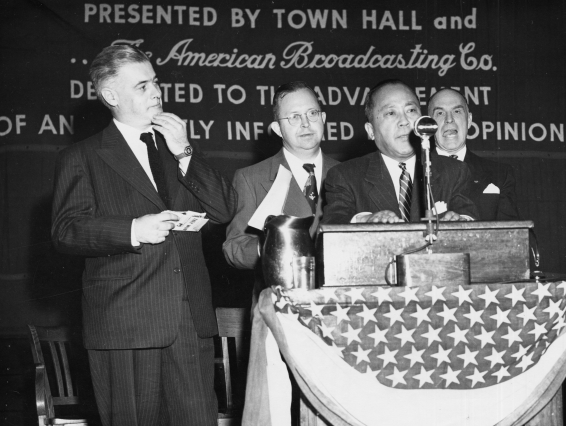 In 1952 America's Town Meeting of the Air made its way to Wheaton College. The topic of the broadcast was "What is the answer for Korea" and Dr. Orville Hitchcock of the University of Iowa served as the moderator for the meeting. Dr. You Chan Yang, South Korean Ambassador to United States, Mr. Walter O'Hearn and Congressman Orland K. Armstrong of Missouri represented the various positions. Mr. O'Hearn was executive editor of the Montreal Star and represented the "left" position, while Armstrong, who also served on the editorial board of Reader's Digest, represented the "right."
The National Archives houses dozens and dozens of recordings from the broadcast, including the Wheaton-hosted event in the New York University Collection, 1935 – 1954.