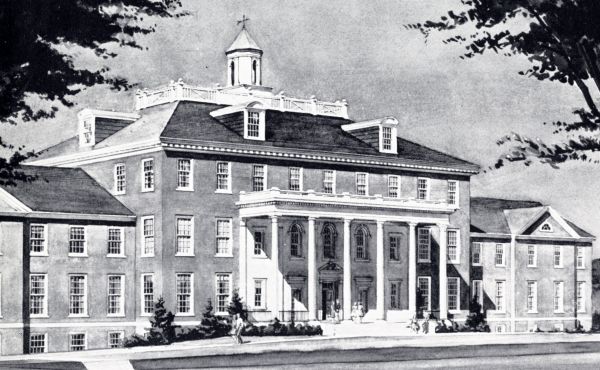 From the 1945 Armed Forces Tower:
The Memorial Student Center is planned to end Wheaton's shortage of dining hall space. There will be four dining halls and a magnificent, modern kitchen. The building will also house all the student organizations, the Tower, the Record, Student Council, Christian Council as well as the Alumni Association. The basement level will feature a large grill and fountain and a recreation room. There will be several comfortable lounges on the first floor. Small meeting rooms, private dining rooms, at least two literary societies and a devotional chapel designed to seat from thirty to forty people are included in the plans.
Originally projected to stand at the northern end of the quad where the old science buildings, Breyer and Armerding Halls, are located, this spacious, magisterial structure was significantly altered, perhaps due to budgetary constraints, losing its wings, grand portico and other architectural flourishes. As built, the reduced Memorial Student Center is situated on the southern end with its front facing away from the quad; and for over fifty years it contained the STUPE, the Chaplain's office and several other campus organizations, but no dining hall. A 2006 refurbishment introduced its current use as an academic building housing the Hastert Center, named after J. Dennis Hastert, former Speaker of the House, Politics and International Relations and Business and Economics departments, classrooms and an archive.