The early history of publishing English bibles in America was not one of success as a monopoly existed in England and that control extended to her colonies. The "crown" would not allow that monopoly to be breached by giving permission for bibles to be printed in the colonies. In the colonial period bibles were shipped from Holland and England. However, when the war for independence began embargoes began and bibles were one commodity that fell into short supply.
In 1777 the chaplain of the Continental Congress, Patrick Allison, asked its leadership to address this great shortage. In response Congress passed a resolution to import bibles from wherever they could be obtained, "from Holland, Scotland, or elsewhere," however nothing was ever done.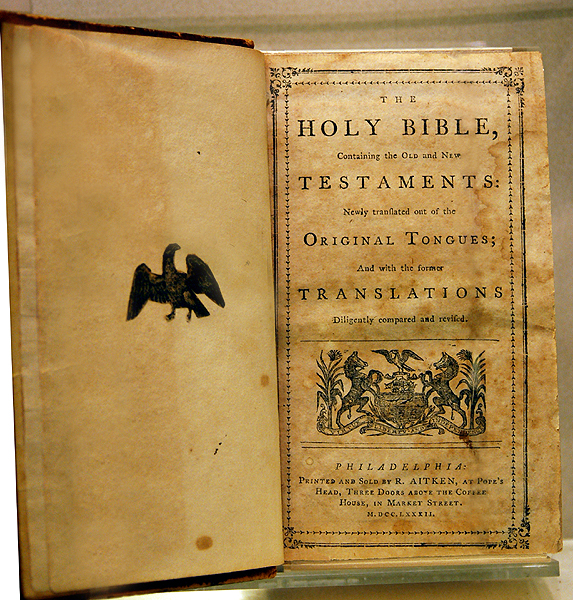 This failure of action spurred on the work Philadelphia printer Robert Aitken. This Quaker native of Scotland had only been in the colonies since 1769. He was the publisher of the Philadelphia Magazine along with Benjamin Franklin's son-in-law Richard Bache. It was Aitken that the newly formed Congress engaged to publish its journals and proceedings. During the war resources were scarce, but Aitken took it upon himself to gather the resources necessary to produce a small "duodecimo" New Testament. Due to the great demand the 1777 volume was reprinted in 1778, 1779 and 1781. Seeing the desire the people had for copies of the bible Aitken sought the support of Congress to produce a complete bible.
Rev. John Witherspoon, president of The College of New Jersey (now Princeton University), spearheaded a review of Aitken's ability to produce a bible and recommended to Congress that in the "interest of religion, as well as…the progress of arts" Aitken be approved and employed to produce a bible. So, Aitken's 1782 Bible was the first, and only, bible to be printed with the approval of Congress.
Though other translations of the bible into other languages had been printed in North America, this was the first English bible to be printed. 10,000 copies of Aitken's bible were printed and it was small enough to fit into the coat pocket of the Revolutionary War soldiers. Today, few copies remain and these are some of the rarest bibles with a single page selling in the hundreds of dollars. Wheaton College's copy can be viewed on display in the Museum of the Billy Graham Center.