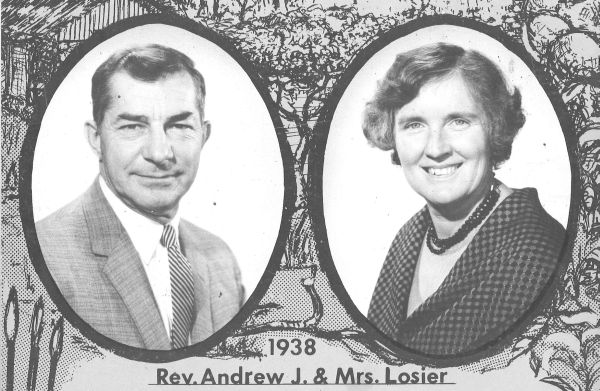 Andrew Losier graduated from Wheaton College in 1934 and Dallas Theological Seminary in 1937. That year he was married to Dorothy, his college sweetheart. Under the umbrella of a faith mission, Dorothy and Andrew sailed for East Africa, arriving on December 5, 1938. They worked among the Kipsigis until 1940, then received an assignment to work among the nomads of the Masai Tribe in the foothills of Kilimanjaro. In 1952 they founded the Christian Literature and Bible Center. They distributed over a billion pieces of Christian literature in 50 different languages in East and  South Africa. After 43 years in Africa, they began their international distribution venture, "Around the World." Losier very briefly recounts his Wheaton College days in Memoirs of Africa (1985),
During my senior year at Wheaton, I became engaged to a wonderful young lady, Dorothy Lehman, who was the ninth child of God-fearing parents of German-Swiss origin. For many years I had prayed that the Lord would direct me to the right woman for my future life partner. Unknown to me, Dorothy was praying in Indiana for the right man. I dedicated my life to full-time mission service in Africa and she dedicated herself to full-time mission service anywhere but Africa! But God worked that out, too. It was nearly five years before we were married and I thank God that Dorothy was willing to wait for me.
The Losiers had five sons and two daughters. Andrew died in 1998. Dorothy died in 1992.