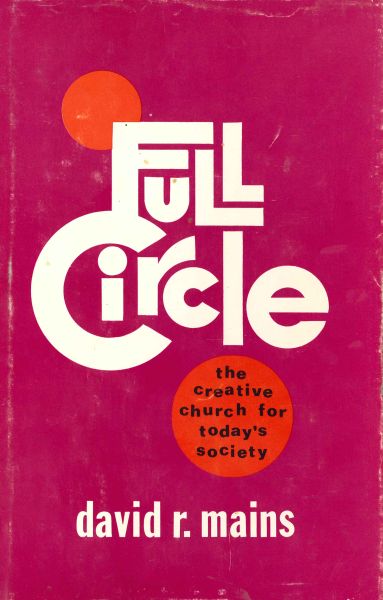 The 1960s were years of dizzying upheaval for the United States. Its citizens wearied of the complex, seemingly endless war in Viet Nam. University students experimented with radical philosophies and mind-altering drugs. Racial tensions tightened in the inner city, often exploding. Popular music, particularly rock and roll, assumed an edgier attitude, reflecting the spirit of protest. As culture-shattering challenges shook the American psyche, the church did not remain unscathed. Amid the turmoil, David Mains, formerly assistant pastor at Moody Church in Chicago, with his wife, Karen, determined that the moment was right to implement a "creative" congregation on the edge of the ghetto, using all the gifts of its membership while aggressively reaching the socially disenfranchised and those disillusioned by local churches. Under Mains' leadership, Circle Church began in 1967 with 28 people. Four years later Circle Church's membership climbed to 500 congregants,  comprising students, high-rise apartment dwellers and ghetto inhabitants. Mains tells the story in Full Circle (1971). As the years progressed, however, Circle Church began to slowly unravel. Mains picks up the story in a 2004 Christianity Today essay called "Presumption at Circle Church." He writes, "Today I am embarrassed about some of the attitudes expressed in Full Circle. I still have the same principles, but my comments seem cocky and presumptuous. I saw Circle Church as the tip of a new wave that would sweep across evangelical churches. That didn't happen. Circle Church still exists, but in a smaller form and with more specialized emphasis." Mains cites several reasons for the failure of Circle Church, expounding on each point. 1) I often allowed myself to fixate on issues. 2) I was naive about social problems. 3) In encouraging others' gifts, I minimized my leadership role. 4) I held onto the church too tightly.
"The best thing that happened to me in leaving Circle Church was the breaking of my pride," Mains writes. "During the breaking time, I felt rejected by the church that I had poured my life and soul into for ten years. For a brief time I questioned my faith in God. I wondered if I could trust him again." He concludes,"More than a year passed after I left Circle Church before I began to feel like a man again. I have since sensed a new filling of the Holy Spirit, which was the result of a complete surrender to God. The process taught me to put confidence not in myself but in the Lord. As never before I identify with Paul's words, 'His strength is made perfect in my weakness.'"
Though Mains expresses a measure of remorse, his experiment in the Chicago ghetto, using liturgy, art and lively worship, waved a banner of salvation and hope for many, while providing a template for later generations of churches employing similar principles.
In 1977 Mains assumed the position of director for the Chapel of the Air, with Karen acting as co-host of the syndicated radio broadcast. Both have authored several books. Their papers (SC-118) are housed at Wheaton College Special Collections at Wheaton College (IL).