We think that we may live in a time of deeply partisan politics with a heightened pomposity. However, the fear of the wrong candidate winning is not a new fear.
Just prior to the election of 1880 Maria Bent Nichols wrote to her sister Mary Bent Blanchard. Her letter discusses the general niceties of 19th-century correspondence but then moves to the upcoming election. Looking forward to Garfield's victory, Nichols feared a win by Winfield S. Hancock.
"I am exceedingly anxious to see the triumph which has begun in Indiana go on till Garfield is seated in the White House. If Hancock is elected I shall wish that I was able to leave the country. I should feel that we were given over."
We are not told in this letter the cause of Nichol's fear, but if Hancock won she felt that the country would have been "given over" which is likely a reference to being "given over to Satan" not unlike the troubles sent upon the biblical Job. Maybe Nichols feared for the stability of the economy. A key element of the 1880 presidential campaign was a return to the gold standard for the country's currency. This was good for fighting inflation, but very bad for those with heavy debts.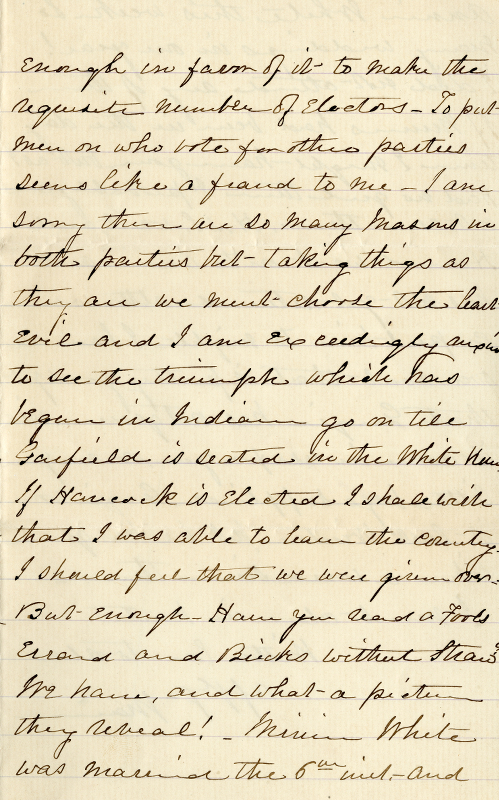 This and other letters to and from Jonathan and Mary Blanchard can be found  housed at the Wheaton College Archives of Buswell Library at Wheaton College.