Miranda, the saavy sixth-grade protagonist of Rebecca Stead's When You Reach Me (2009), continually references her all-time favorite book, A Wrinkle in Time, as she faces her own baffling — and potentially deadly — time-travel conundrum in 1979 New York City. When You Reach Me is the 2010 winner of the Newbery Medal for Most Distinguished Contribution to American Literature for Children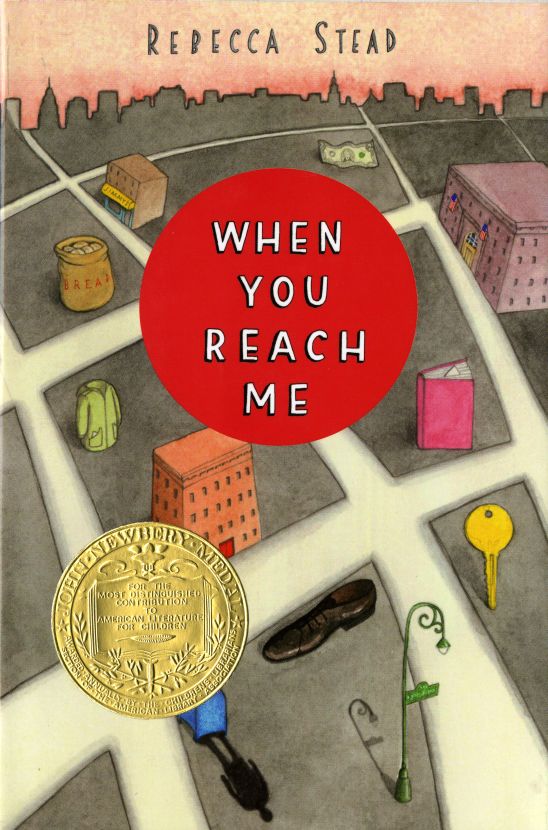 . Stead writes in the Acknowledgments:
Every writer stands on the shoulders of many other writers, and it isn't practical to thank of them. However, I would like to express my special admiration for the astonishing imagination and hard work of Madeleine L'Engle, whose books captivated me when I was young (they still do), and made me want in on the secrets of the universe (ditto).
Further commenting on the influence of L'Engle, Rebecca Stead says in an interview with Amazon.com:
I loved A Wrinkle in Time as a child. I didn't know why I loved it, and I didn't want to know why. I remember meeting Madeleine L'Engle once at a bookstore and just staring at her as if she were a magical person. What I love about L'Engle's book now is how it deals with so much fragile inner-human stuff at the same time that it takes on life's big questions. There's something fearless about this book.

It started out as a small detail in Miranda's story, a sort of talisman, and one I thought I would eventually jettison, because you can't just toss A Wrinkle in Time in there casually. But as my story went deeper, I saw that I didn't want to let the book go. I talked about it with my editor, Wendy Lamb, and to others close to the story. And what we decided was that if we were going to bring L'Engle's story in, we needed to make the book's relationship to Miranda's story stronger. So I went back to A Wrinkle in Time and read it again and again, trying to see it as different characters in my own story might (sounds crazy, but it's possible!). And those readings led to new connections.
The papers of Madeleine L'Engle are housed at the Wheaton College Special Collections in Wheaton, Illinois.