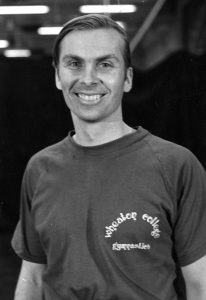 Like any good soldier, Dr. George "Bud" Williams (1942-2019) performed all assigned tasks with exactitude and energy. He studied at Penn State and was accepted (but did not attend) Yale University. Excelling in gymnastics, he served as Instructor in Physical Education and Coach at West Point Military Academy. He commanded an ROTC battalion, and taught various aspects of health and athletics at Wheaton College, stressing the necessity for nutrition, hygiene and spiritual renewal.
In addition to his academic responsibilities, Bud acted as president of the Christian Society for Kinesiology and Leisure Studies, and served on the board of Christian Camping International (SC-55), envisioning the digitization of its archived documents for the benefit of international missions research. He particularly relished his visits to Honey Rock Camp, where he subsequently established the Vanguard program, developing Wheaton College student leadership amid the unpredictability of outdoor activities. He describes the purpose of Vanguard in a 1975 manual:
Vanguard is essentially a series of personal and group initiative tests that require the person to think creatively and rationally, often under the pressure of time and circumstances. Through many of the tasks the individual or group is presented with problems that they must solve, from dividing and cooking food, setting up camp, navigating a map and compass through dense forest, to performing service projects, and many other such challenges.
Above all else, Bud loved his Savior.
Flashing a gleaming smile and quick blue eyes, intense but approachable, he radiated a warmth that netted generations of loyal friends among staff, faculty and students; but underneath the kindly demeanor lay a driving desire to improve himself and those with whom he interacted.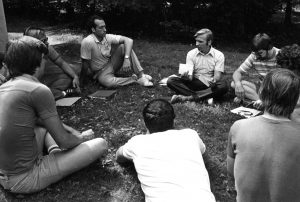 Bud was committed to the formation of a hardy but sensitive moral character stabilized and nourished by the Spirit of God, and constantly sought resources that would inculcate this principle to his classes, indoors or out. He knew that when the man or woman securely rooted in Christ passed from the scene, a lingering force of integrity, a wide-ranging, life-giving testimony should remain, ever attracting a fallen humanity to the risen Savior.
Bud has passed, but his influence echoes with the resonance of morning reveille through the hearts of those he taught and loved.