It is rightly declared that behind every great man stands a great woman. Considering the academic community, it is also a fact that behind every man and woman, great or not – whether president, provost, professor, registrar, student, janitor or cook – stands the chairman of the board of trustees, quietly holding all operations with a determined hand. Often his name is not recognized by the larger campus.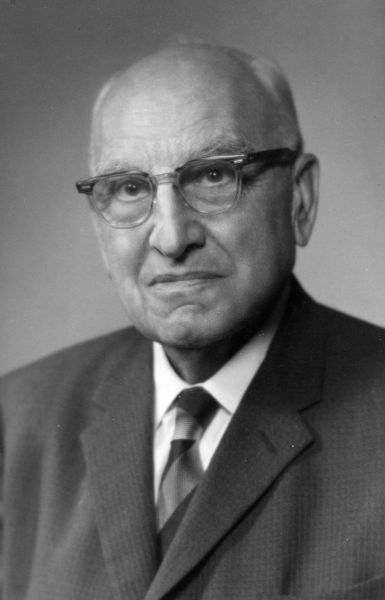 At Wheaton College this position was held for a remarkable 43 years by Herman A. Fischer, Jr. Herman was one of twelve children born to Herman A. Fischer, Sr., who instructed math at the college for 50 years, and Julia Blanchard Fischer, daughter of Jonathan Blanchard, first president of Wheaton College. Fisher, Jr., after graduating from Wheaton, taught mathematics for two years at Wabash High School in Indiana before enrolling at Harvard Law School, receiving his Doctor of Jurisprudence in 1908. Returning to Chicago with his license, he practiced for 65 years with the firm Campbell, Clithero, Fischer and Guy. Dr. Charles Blanchard, second president of Wheaton College, shortly before his death in 1926, proposed that his nephew, Herman, be appointed as a trustee. A year later he was elected chairman, heading the board until his retirement in 1970 when it awarded him a plaque stating that he had "…demonstrated uncompromising fairness and integrity, shared unusually wise counsel, manifested consideration for varying viewpoints and showed exemplary faithfulness to Jesus Christ and the cause of higher education." Robert E. Nicholas, fellow trustee, added that the venerable chairman was "…a man of action, who wastes no time in getting down to business…[he] is one of the most capable men I have ever known." Herman exhibited durable leadership elsewhere, as well. From 1932 to 1953 he served as president of Gary-Wheaton Bank, continuing as chairman of its board until 1966. He led as officer and director of the Cuneo Press from 1919 to 1973. He was a member of the board of InterVarsity Christian Fellowship and also the Billy Graham Crusades. For relaxation, he enjoyed membership at the prestigious Union League Club and the Chicago Golf Club. Fischer Hall dormitory, on the campus of Wheaton College, is named in honor of both senior and junior. A lifelong bachelor, Herman died in 1974 at Delnor Hospital, St. Charles, at age 91. Billy Graham sent condolences:
There was a glorious reunion in Heaven when Herman Fischer swept through its glorious gates. His powerful leadership was possibly the greatest single factor that kept Wheaton College spiritually balanced, financially sound with academic excellence during the last half century. All of us who have benefited from Wheaton's influence owe him an enormous debt. Please convey to his personal family and to the Wheaton family my appreciation and thankfulness for the life of Herman Fischer.
The funeral, conducted at College Church where Herman Fischer, Jr. served as chairman of the board of trustees, adult Bible class teacher and Sunday School superintendent, was officiated by Chaplain Evan Welsh, Dr. Hudson Armerding and Pastor Nathan Goff.