Two hundred and ten years ago African Methodist Episcopal Church founder Richard Allen published A Collection of Spiritual Songs and Hymns, selected from various authors. The first hymnal published with the intent to serve the black church, Allen sought to divert black worshipers away from the official Methodist hymnal. Within the first year a second edition was published. The hymnal, pocket-sized at 3″ x 5″, was known to be popular, however few copies are known to exist and only microfilm editions are listed in OCLC's Worldcat. One reason this seminal hymnal is so important is that it reflected the songs that black Christians in America enjoyed singing and that were popular. Allen's hymnal is the precursor of the gospel hymnal of nearly a century later.
One hundred and twenty years after Allen's hymnal made it into the hands of worshipers Gospel Pearls was published. Despite the large numbers of gospel hymnals in the marketplace and in churches, the publishers of Gospel Pearls, the National Baptist Convention Sunday School Publishing Board, made no apology for its availability citing the "present day needs of the Sunday school, Church, Conventions and other religious gatherings" since its songs were "suitable for Worship and Devotion, Evangelistic Services, Funeral, Patriotic and other special occasions."
This hymnal, found in the Special Collection's Hymnal Collection (SC 15-1208), was created under the direction of Willa Townsend and contained 164 songs, including works by white gospellers like Sankey, Bradbury, Bliss, Crosby and Rodeheaver, but also works by black writers like Charles Tindley, Lucie Campbell, and, notably, Thomas A. Dorsey. Townsend included one of her own works in Gospel Pearls, "Wade in the Water."
Tindley is recognized as one of the founding fathers of American gospel music, but it was Dorsey who would have the biggest impact on this musical form.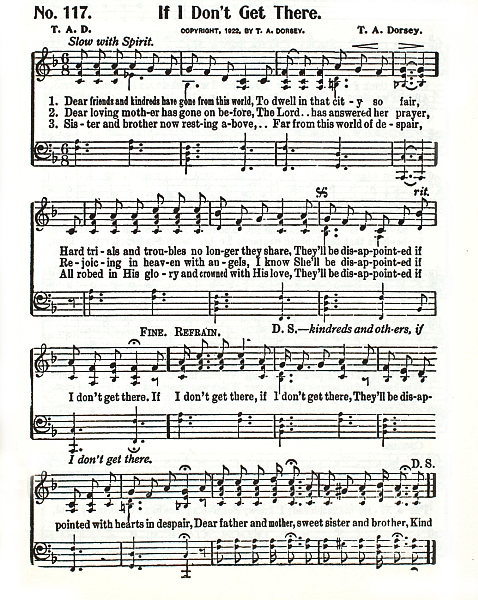 Songs written in Dorsey's musical style were called "dorseys" and were a combination of Christian praise and rhythm and blues and jazz music stylings. Incorporating much of late-nineteenth and early-twentieth century hymnody's emphasis upon personal experience, Dorsey's gospel songs influenced mainstream white music, both secular and sacred. Gospel Pearls included Dorsey's "If I Don't Get There," but he was famous for his song "Precious Lord, Take My Hand." So beloved was this song that it was recorded by a wide range of singers, both black and white, like Albertina Walker, Elvis Presley, Mahalia Jackson, Aretha Franklin, Jim Reeves, Roy Rogers, and Tennessee Ernie Ford and many many more. It was also the requested song for the funerals of Martin Luther King, Jr. and Lyndon B. Johnson.