Edgar C. Bundy was a strident opponent of left-wing politics and one of the supremely colorful personalities inhabiting Wheaton. A retired Air Force former Staff Intelligence Officer, serving in every major theater of operations during World War II, he was also the Chief of Research and Analysis, Headquarters Intelligence, of the Alaskan Air Command after the war. He testified frequently as an expert witness in both open and executive sessions of both houses of Congress and state legislatures. An ordained Southern Baptist minister, Bundy preached at conferences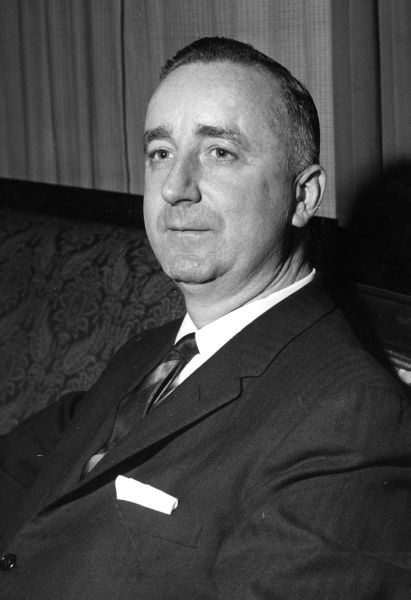 and churches across America. Opposing the incursion of theological compromise and radical leftism, he spoke on hundreds of radio and television talk shows, debating such figures as Bishop James A. Pike and spokesmen of the Communist Party. He was a member of the Mayflower Society, The Order of Founders and Patriots of America, the Sons of the American Revolution, the American Legion, The Military Order of the World Wars, the Veterans of Foreign Wars and was past president of the Miami Beach Symphony Orchestra.
For decades he and his wife, Lela May, resided in the Jesse Wheaton home, built in 1838, given to them by a Wheaton family member as an inheritance. At their home the Bundys entertained doctors, attorneys and politicians. They had no children, but Lela May worked alongside her husband in his endeavors, including raising German shepherds which they often brought into their offices at the right-wing Church League of America. As president of the organization, Major Bundy (as he preferred) maintained a far-reaching mailing list for the distribution of his newsletter and books. His roommate in officers training school was Senator Lloyd Bentsen, and during drill exercises he marched with actor Clark Gable. Bundy's collection of books, maps and file cards was occasionally used by the FBI for research. World-traveled and widely connected, he enjoyed friendships with powerful conservative voices like Robert Taft, William F. Buckley and Ronald Reagan. Bundy, single-minded, fearless and irascible, was a Cold War warrior who undoubtedly loved his country and did not deviate from his principles. Bundy perceived that certain evangelical leaders and institutions had been co-opted by unfriendly forces through the slow, steady poison of compromise. In books such as How Liberals and Radicals are Manipulating Evangelicals and How the Communists Use Religion he presents his expose of their tactics, chronicling the evangelical drift toward liberalism and Communism. "Great moral damage has been done to the United States as a result of this neoevangelical compromise," he writes.