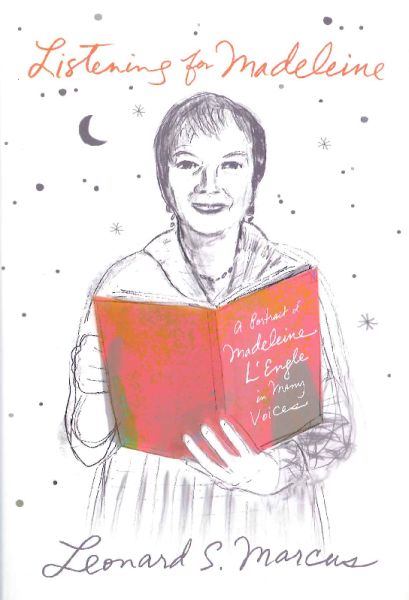 Leonard S. Marcus, author and literary historian, has compiled Listening for Madeleine (2012), a collection of interviews by friends, family, writers and editors who knew Madeleine L'Engle, author of A Wrinkle in Time, Bright Evening Star, Certain Women and many more titles. Sections concentrating on various aspects of her life include "Madeleine in the Making," "Writer," "Matriarch," "Mentor," "Friend" and "Icon."
In his Introduction, Marcus describes a 2002 interview with L'Engle, conducted at her home, Crosswicks.
What followed was an utterly remarkable performance, and an act of generosity that must have drawn on every ounce of her strength and determination. I recognized, from the published interviews I had prepped on, her responses to some of my questions. But much of what she said, I thought, was new. When I asked her about the mail she received from readers, L'Engle told the story of a young reader of A Wrinkle in Time who ended what had seemed a typical fan letter with the news that he was ill with cancer. "We corresponded," she said, "until he died. It was hard and wonderful both." Then L'Engle said, "My books are not bad books to die with." As she uttered this extraordinary remark, a chill ran up my spine. "What do you mean?" I asked her. "What I mean," she said, "is that when I read a book, if it makes me feel more alive, then it's a good book to die with. That," said L'Engle, "is why certain books last."
The papers of Madeleine L'Engle (SC-03) are archived in the Wheaton College (IL) Special Collections.