Letters to Jody, published in 1971 by Thomas D. Parks, is a collection of fictional letters from Dr. Blake, an industrial chemist, to Jody, his Bible class student who has just entered a state university.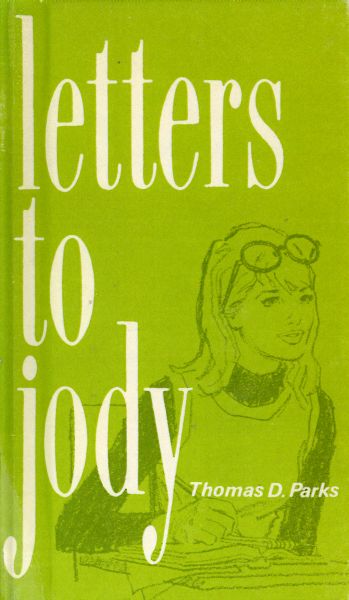 As she adjusts to academic and social expectations, Jody shares various issues with her wise friend. An article from the January 28, 1972 Record explains the book.
If it is true that many parents send their children to a Christian school because it is a "'safe' place for my little Frerkowitz," then there is greater truth in the statement that going to a Madison, University Park or Berkeley will be a crucial period in the life of a Christian youth. A unique insight into a parent's mind on this subject may be viewed in a recent book entitled Letters to Jody. The author is Dr. Thomas Parks, father of Jody Parks, a Wheaton junior and literature major. However, the Jody of Wheaton is not the Jody of the State U. in the fictitious correspondence. Supposedly the letters are received from Jody's Bible class teacher. Her name is employed merely as a personifiation of "the Christian University co-ed." Dr. Parks combined his experience as the father of a Christian college student with his ideas of the current university picture to elucidate his understanding and convey this to his audience.

Letters addresses itself to anyone who would be involved in answering the problems and questions in the mind of the Christian at college or in any other student-related experience. Also, it serves as a representation to a non-Christian or a new believer of some positions held by most middle-class Christian parents. In an interview, Miss Parks said, "Some of the issues in the book were touch to me." This especially pertained to the letters the book's cover reviewer termed "race relations," since Jody serve with SMP in Spring City, Tennessee, a Bible camp for black children this past summer.

Jody aided her father in analyzing content and style in Letters. There were some personal references which she did not want to see printed. Stylistically she said, "The book was too much like a textbook. I helped him cut down some of the letters in length and add more also." There aren't any letters by Jody in the book. She did help edit it, however.
Long out of print, Letters to Jody still offers valuable insight into the cultural shifts emerging during the early 1970s, in addition to reflecting the conservative positions held by Dr. Parks, who graduated from Wheaton College in 1942.