In 2006, Ted Haggard, pastor of New Life Church, author and president of the National Association of Evangelicals, shocked America when he confessed to drug abuse and an illicit affair with a male prostitute in Denver.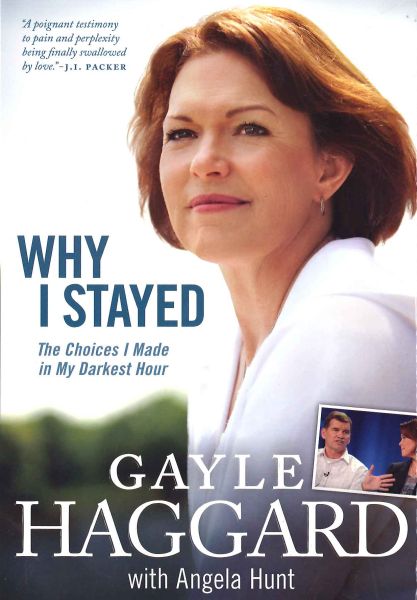 Consequently, Haggard quit his numerous leadership positions and sought pastoral counseling. Not only was Haggard publicly humiliated, but so was his wife, Gayle. Inundated with a persistent question, she responds in her memoir, Why I Stayed (2010). She recounts her marriage to Haggard, from their meeting as students at Oral Roberts University to the present. Gayle Haggard summarizes her conclusions in the final pages:
Why did I stay married to Ted Haggard? I think the more pertinent question — the one I had to settle in my heart — was, Why should I go? My reasons for staying with Ted were far more compelling than any that would have propelled me toward divorce. I stayed with Ted because to me he's worth the struggle…But even in the midst of my pain, I believed Ted loved me…I decided that he was worth fighting for, our marriage was worth fighting for, and our family was worth fighting for. I stayed with Ted because commitment means something to me. I've committed my life to God, which means that I've chosen his ways and I follow his example of love and forgiveness. I'm committed to our marriage, to stay in this journey till death do us part. I am committed to our children, and I want to restore honor and dignity to their lives.
The papers of the National Association of Evangelicals (SC-113), from its inception in 1941 until the mid-1990s, are housed in the Wheaton College Special Collections, available to researchers. The NAE is currently headed by Dr. Leith Anderson.