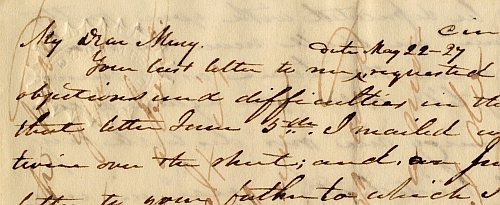 Throughout the summer of 1838 Jonathan Blanchard had thoughts of marriage on his mind, particularly, the thought of Mary Avery Bent who was residing in her natal Middlebury, Vermont after spending time as a teacher in Pennsylvania and Alabama. The correspondence between Jonathan and Mary, as well as between Jonathan and Mary's father clearly gives one the sense of significance and weightiness of the prospect of their future together. In this time and place marriage was not entered into lightly and contrasts greatly with today's expendable marriages.
What wasn't on Jonathan's mind, until rather suddenly, was the role that he would play in someone else's marriage. By June 1838 Jonathan Blanchard had associated himself to and begun to assume leadership of the Sixth Presbyterian Church in Cincinnati, Ohio. Here he followed in the footsteps of Asa Mahan who went on to lead Oberlin College. At this time without the credentials to perform marriages he was asked by a very recent member of the church if he could secure the ability to solemnize marriages. In his own words to Mary, his beloved, Jonathan wrote on June 27, 1838
"A young lady joined to my church last communion is going to be married in a few days and she got her mother to ask me in [time] so that I might get my license from the court before her intended should apply to me — so that I am now clothed with the necessary powers — and — do you believe — my first official act is to join a couple of colored people in marriage which I am to-night to do! I dare not tell any of Mary Cobb's (for that is her name) friends of it for fear the association of ideas will not be calculated to add to the bliss of their union. Mary is a girl from N. England of limited advantages but a pretty face, and decided piety. Her (to be) husband is a rather fine looking young man — professedly pious — will do — though not so good as she is. She however, will always make him mind."
Blanchard, known to preach in black churches and ridiculed for it, resisted the sinful racial structures of the day. It is a testament to Jonathan Blanchard that he was willing, in these times, to have his first wedding ceremony be between a black man and woman. He provided for these free-persons a service often unavailable to their enslaved kinsmen and kinswomen. This wedding and his involvement in the Cincinnati Underground Railroad expresses Blanchard's putting his beliefs into action and showed that he was no "respecter of persons" as so many of his contemporaries were.