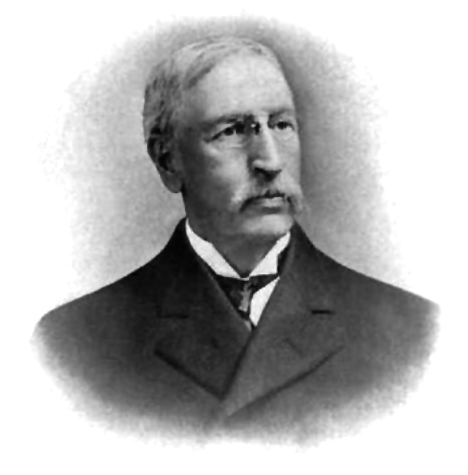 In amongst the various scholarships offered at Wheaton College is one in honor of John Heman Converse. Though not among more recent listings, Converse's generosity is noted in history. He was born in Burlington, VT on December 2, 1840 to Mr. and Mrs. John Kendrick Converse. Converse was prepared for college in the local high school and graduated from the University of Vermont in 1861, where he distinguished himself for his intellect and moral force. Upon graduation Converse worked for three years as an editor for the Burlington Daily and Weekly Times. In 1864 he moved to Chicago to work for the Chicago and Northwestern Railway Company. He would remain associated with railroads for the remainder of his life, with the Pennsylvania Railroad and then the Baldwin Locomotive Works. He became a partner in 1873 of Burnham, Parry, Williams & Co., later the Baldwin Locomotive Works. In addition to his professional life Converse served as Director of the Board of City Trusts of Philadelphia, Trustee of Girard College (a private boarding primary and secondary school for children of single parents) and his alma mater, Director of several Philadelphia banks and trusts, Trustee of the Presbyterian Hospital of Philadelphia, and the Secretary of the Board. He also served President of the Fairmount Park Art Association, the nation's first private, nonprofit organization dedicated to integrating public art and urban planning. The association was founded in 1872 by concerned citizens who believed that art could play a role in a growing city and adopted the country's first ordinance that required that a percentage of construction costs be set aside for fine arts. Mr. Converse was a strong supporter of higher education, particularly a liberal education. He supported heavily his alma mater and wrote "Higher Education for business pursuits and manufacturing," published in Annals of the American Academy of Political and Social Science, Volume 28 (1906). In addition to his association with Girard College and the Univesity of Vermont, Converse was a trustee of the Mount Hermon School that had been founded by Mr. Moody. He was one of the original signators founding the International Y. M.C. A. Training School at Springfield, Mass.
With all of these accolades and achievements it was known that he was exceedingly generous with his fortune. It was said the he was a master of his money and that it never mastered him. Like the biblical Abraham Mr. Converse determined to be his own executor, distributing his wealth during his lifetime and not by probate. His view of finances were informed by his faith. He was a thorough-going Presbyterian but was ecumenical in his involvements. He was known as a faithful and generous churchman. The Presbyterian Hospital in Philadelphia was of particular interest to Converse, serving as a trustee and secretary. As with the University of Vermont Converse helped build its physical plant through generous gifts. Converse was a ruling elder in the Presbyterian Church and very active in several Christian enterprises in the "City of Brotherly Love." In 1900 he was Vice Moderator of the Presbyterian Church of the United States and also served as Chairman of the Business Committee of the Board of Publication and the Committee on Evangelistic Work. He was a Trustee of the Princeton Theological Seminary and a member of the University Extension Association. He was a strong initiator of evangelistic efforts that were carried on by the Presbyterian Church in the United States. He encouraged noted urban evangelist J. Wilbur Chapman to return to evangelistic work and endowed a fund to be sure that the work continued if he were to die suddenly.
Continuing, further, his support of higher education he helped endow the San Francisco Theological Seminary through gifts to the library and a theology chair. When he was honored by the Presbyterian Church in 1902 those in attendance numbered nearly 2,500 and Supreme Court justices, federal judges, public officials and numerous clergymen of several denominations were among the guests.
Converse was married in Bay Ridge, Long Island, NY, on July 9, 1873 to Elizabeth Perkins Thompson. Together they had two daughters and one son. In 1908 he adopted the daughter of a cousin who had become an orphan in order to provide for her. Converse died suddenly from heart disease at his Rosemont, PA home on May 2, 1910.