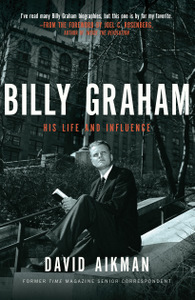 Billy Graham: His Life and Influence (Thomas Nelson, June 2010) examines Graham's impact on the worldwide development of Christianity, international affairs and the fall of Communism. Author and former TIME Magazine senior correspondent David Aikman integrates his Christian faith and understanding of world affairs into this careful analysis of Graham's ministry. Aikman examines critical episodes of Graham's life that explain his impact on American public life and the private lives of world leaders.
David Barrington Thomson Aikman was born on June 6, 1944, the same night as the Normandy invasion, in Cobham, Surrey, England. Dr. Aikman received his early education at Stowe School in Bucks, England. He was graduated with honors in Russian and French from Worcester College, Oxford, received his M.A. in Far Eastern Languages and Literature (Mongolian and Turkish) from the Far Eastern and Russian Institute of the University of Washington, Seattle and also received his Ph.D. in Russian and Chinese history from the University of Washington.
He began his twenty-three year career with TIME magazine in 1971, reporting from five continents and more than 55 countries. As foreign and Senior Correspondent he interviewed major world figures like Mother Teresa, Alexander Solzhenitsyn, Boris Yeltsin and Billy Graham. He was bureau chief in Berlin, Jerusalem and Beijing aided by his skill in speaking Russian, Chinese, French, and German. He is an expert on China, Eastern Asia, and the former Soviet Union. From 1998 to 2002 Aikman was a Senior Fellow at the Washington-based Ethics and Public Policy Center. Additionally, he served as editor-at-large of Newsroom, an Internet-based news organization reporting on the religious aspect of news events around the world.
David Aikman has been an eyewitness to the rise and fall of nations and regimes. Based in Hong Kong in the early 1970s, he saw first-hand the fall of Indo-china to Communist rule. He was the last correspondent to leave Phnom Penh before the Khmer Rouge invaded in 1975. While Eastern European Bureau Chief, Aikman also covered the emergence of dissident groups in Poland. Aikman was familiar with many of the people who became advisers to Polish President Lech Walesa. Dr. Aikman has also been Bureau Chief in Jerusalem, during the invasion of Lebanon by Israel; Beijing, during the reforms of Deng Xiaoping and the last days of the pro-democracy movement in Tiananmen Square; and in Moscow, during the Chernobyl disaster and the beginning of Yeltsin's loyal opposition movement in 1989.
David Aikman is also an accomplished public speaker, appearing regularly on major C-SPAN, CNN, NBC and others. His speaking has focused on the Middle East, China and on religious persecution around the world. The David Aikman Papers are housed in the Wheaton College Archives & Special Collections.
[excerpted from David Aikman.com and David Aikman Papers]