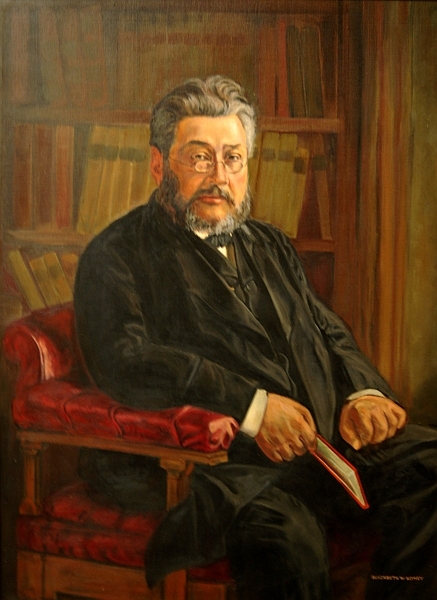 Recently the Archives & Special Collections received some interesting items relating to Charles Haddon Spurgeon.
At the age of 20 Charles Haddon Spurgeon became the pastor of The New Park Street Chapel. A Baptist congregation that had its roots to 1650s with the English non-conformists, New Park Street was a Reformed Baptist church in Southwark, London. The congregation eventually outgrew its quarters with the exceedingly popular young preacher. In 1861 The Metropolitan Tabernacle was built at the prominent intersection at Elephant and Castle. A strong and vital congregation still worships there.
The original Metropolitan Tabernacle, built on the supposed site of the burning of the Southwark Martyrs, was burned down in 1898 (excepting the front portico and basement), and rebuilt along similar lines. It was later burned down for the second time when hit by an incendiary bomb in the longest air raid of World War II (in May 1941). Once again the portico and basement survived, and in 1957 the Tabernacle was rebuilt on the original perimeter walls, but to a different design.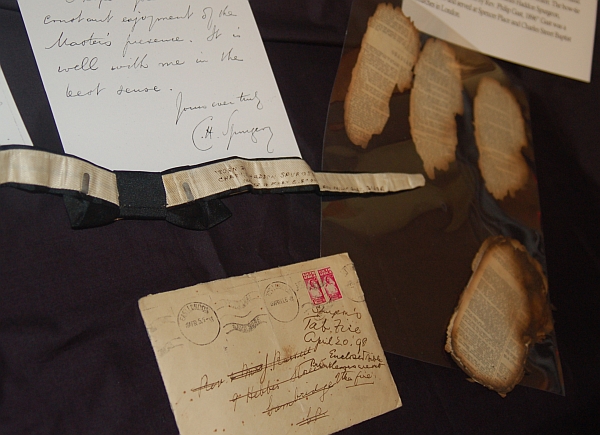 It was in the fire of 1898 that the burned bible was rescued from Spurgeon's church. Along with the bible came another bit of "Spurgeoniana," a bow-tie once worn by the preacher. The bible and bow-tie were the gift of Mrs. Delores Seifert, wife of Milton Seifert '54. The bow-tie contains the inscription, "Worn by Charles Haddon Spurgeon, presented to Mary E. Scott by Rev. Philip Gast, 1896" Gast was a Baptist pastor and a contemporary of Spurgeon serving at Spencer Place and Charles Street Baptist churches in London.