"Dad taught me the fundamentals of art," writes Phil Saint, whose father, Lawrence, designed the stained-glass windows at the National Cathedral in Washington, D.C., "with patience and devotion that I would not have met in any art school. He was a hard taskmaster." During high school Saint assisted cartoonist Herbert Johnson at The Saturday Evening Post, learning valuable draftsmanship. As a chalk talk evangelist at Wheaton College, Saint drew pictures as he preached in churches and youth camps. Interestingly, Saint was partly color blind, asking attendees to his meetings the color of his chalk, dividing the pieces appropriately on his tray.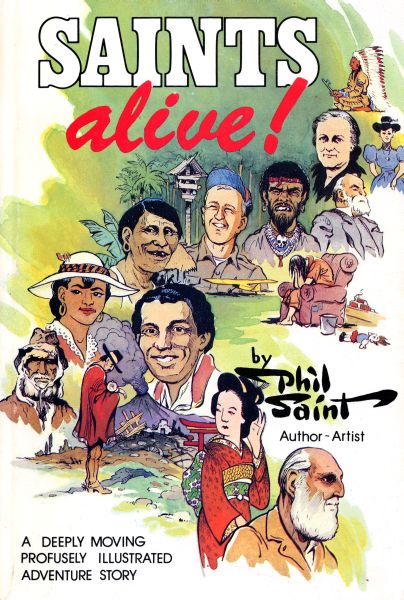 He recalls fondly, "The Wheaton of 1937 caught me up in a new world of studies, friendships and extracurricular studies." Amid these activities Saint met his future wife, Ruth Brooker. Graduating with honors, he entered World War II where he distributed New Testaments for the Pocket Testament League. After briefly serving as a missionary in Japan and Korea, he eventually settled in Argentina where he established a conference center and studio.
Curious about his son's revitalized spiritual life, Saint investigated the claims of Pentecostalism and finally joined them in the late 1960s after receiving a baptism in the spirit, which he called his "spiritual earthquake." Raised among the cautious Plymouth Brethren, his decision caused considerable consternation among them and some supporters discontinued funding his mission. But Saint never looked back, simply applying his gifts as teacher and artist to Pentecostal denominations. His books include 85 Drawings About the Here and Hereafter and his humorous memoir, Saints Alive, both illustrated with cartoons interspersed with commentary reflecting his conservative positions on religion and politics. Saint's work has been favorable compared to that of graphic artist Will Eisner, creator of The Spirit. Saint's brother, Nate, was one of five missionaries martyred in Ecuador in January, 1956. Saint's sister, Rachel, remained with the mission to continue the work. Phil Saint died in 1993 as the result of a tractor accident at Lake Valley Bible Conference Center in Cordobo, Argentina.