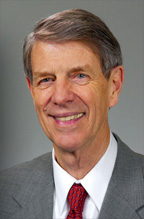 Dr. Jerry R. Kirk is former pastor of the College Hill Presbyterian Church in Cincinnati, Ohio. During his twenty-one year pastorate, in 1983 he founded the National Coalition Against Pornography, an alliance of citizen-action groups, foundations, and religious denominations leading the effort against child pornography, adult obscenity, sexual exploitation and violence. During that time he also co-founded the Religious Alliance Against Pornography (RAAP) with John Cardinal O'Connor of New York and Joseph Cardinal Bernardin of Chicago in 1986. In 1988 Jerry resigned his pastoral charge to commit his full-time energies to these efforts, now called the National Coalition for the Protection of Children & Families.
Dr. Kirk has worked with religious leaders representing more than 100 million Americans, from nearly every major denomination and faith group in the country, including the Jewish community, The Salvation Army, the National Council of Churches, the National Association of Evangelicals, the Roman Catholic Church, Greek Orthodox Church and Church of Jesus Christ of Latter-day Saints. He has met with Presidents Ronald Reagan and George H.W. Bush and three different Attorneys General (including Edwin Meese). Dr. Kirk is a frequent speaker on the problem of pornography, sexual exploitation and violence, appearing on Dr. James Dobson's "Focus on the Family" radio program eleven times, as well as, "The Oprah Winfrey Show," "NBC Nightly News" with Tom Brokaw, Moody Broadcasting's "Prime Time America" and most recently on FamilyLife with Dennis Rainey.
A native of Seattle, Washington, Dr. Kirk attended the University of Washington and has earned two graduate degrees. He has written two books, The Homosexual Crisis in the Mainline Church, The Mind Polluters, and numerous articles. He and his wife, Patty currently reside in Cincinnati and have five children and twenty-two grandchildren.
———————————————–
On February 16-17, 1994, Jerry Kirk spoke at Wheaton College for the Annual Staley Lecture series on the topic "The Christian Response to Pornography." In his final chapel address on the theme 'Knowing, Believing, Praying, and Living the Word of God,' Kirk expounded on the love of God from Ephesians 3 and presented a powerful illustration.
I've tried to think how can I receive God's love more constantly? One of my [church] members told me one day that every time she saw a cardinal she would stop and say "I love you," putting the words in the lips of Jesus. So I started searching for cardinals…but you know I didn't see enough cardinals, so I put up a bird feeder outside my office window and I'd see ten or fifteen cardinals every day. Then I decided I ought to do that anytime I see any bird. Everyday, every time I see a bird I thank Jesus Christ for His love. Seventy-five to one-hundred fifty times every day I receive the love of Christ. If you'll do that for one week, you'll never stop.

(mp3 – 00:29:05, illustration starts at 17:05)